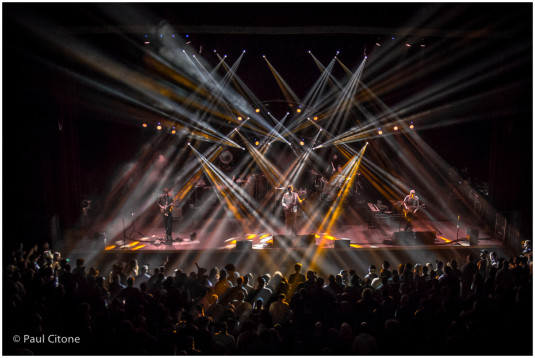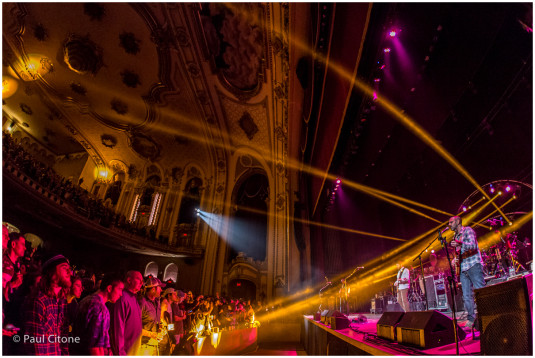 Source: PLSN.com
ALBANY, NY — American Jam band moe. ended 2014 with a sold out concert at The Palace Theater in Albany, NY. LD Preston Hoffman once again made Robe Pointe moving lights the centerpiece of his rig. The lighting for this special one-off – which also celebrated the start of moe.'s 25th year – was designed as a larger version of their recent touring system which had featured 12 Pointes hung on a custom structure and used to create most of the signature looks.
LD Preston Hoffman Lights New Years Gig for Jam Band moe. More details from Robe (www.robe.cz):
For the New Year's Eve show, the Pointe count was upped to 24 … plus a few wash lights and strobes. The additional 12 Pointes were flown on the venue's house bars and helped fill in the spaces with additional lighting.
Preston loves the almost endless variations on the beam offered by the Pointes.
LD Preston Hoffman Lights New Years Gig for Jam Band moe. "There's so much scope that I can keep a whole show fresh throughout just by using Pointes as the hard-edged fixture," he declared. He likes the fact that you can be really in-the-face with them one minute, and then switch to the most delicate and gentle effects the next – all in a nanosecond!
"I've been using them for over a year now and they don't disappoint."
LD Preston Hoffman Lights New Years Gig for Jam Band moe. He also mentioned that one of the challenges of working with LED screens and surfaces in a design is not letting these wash out the lighting. Pointes are great in this context as they really hold their own when it comes to brightness.
Lighting kit for moe.'s NYE show was supplied by KM Productions from Long Island. Preston persuaded them to purchase some Pointes a while back which proved an excellent decision all round as the units have worked constantly.
It seems the 2800 audience on New Year's Eve were super-impressed with both the performance and the lighting, offering numerous compliments. "I have never had so many people saying it was one of the best light-shows they have ever seen … and I owe all that to the super-functional Robe Pointe," he concluded.