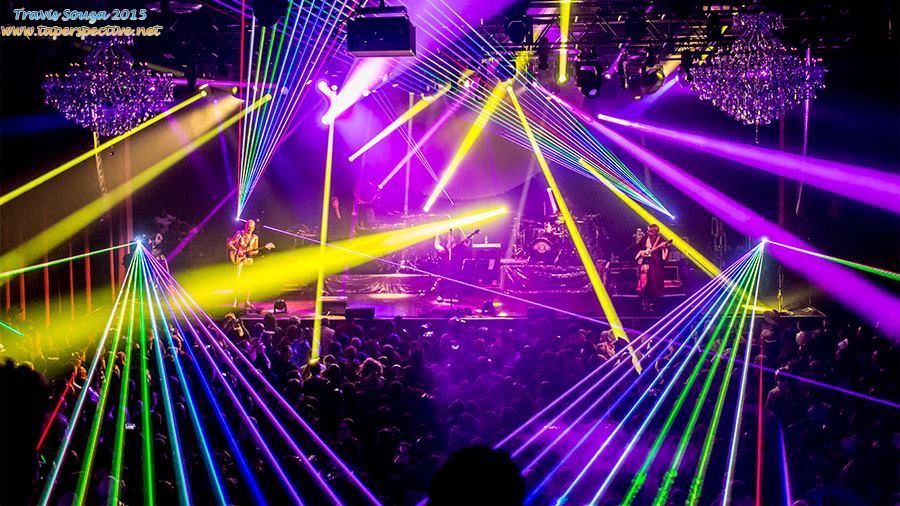 Pulse lit up Halloween with a variety of artists in Boston, Philly, Asheville, Nashville, and all the way down in New Orleans. Each concert masterfully executed a genre-specific, Halloween-themed celebration with impeccable lighting design tailored to the artists' vision.
Grace Potter rocked out in Boston, Massachusetts, with a monumental 80s-rock-themed performance featuring classic anthems and matching attire. On Halloween, the second of two nights at the Orpheum Theater, Preston Hoffman designed dramatic looks reminiscent of a 1980's Motley Crue show, while also referencing more modern treatments of that music. The antics and nostalgia on stage left the crowd reeling.
Veteran jam band moe. employed the popular Star Wars theme for an unforgettable Halloween show at the The Fillmore in Philadelphia, Pennsylvania. From debuting covers of the film score and alternating lyrics in a few of their originals, this amazing band went all out by dressing as Star Wars characters, hanging X-Wing and TIE fighter ships from the ceiling, and utilizing a giant screen wall for Star Wars visuals. As the first set opened with the "Star Wars Anthem," 2,500 fans wore Storm Trooper masks provided by the band Andrew Smith crafted warm, uplifting lighting in the first set that morphed into a dark and sinister explosion for the "Imperial March." The featured lighting designs and set pieces of iconic Star Wars images created a very memorable Halloween for all in attendance.
For their Halloween show at the The US Cellular Center in Asheville, North Carolina, Widespread Panic, wearing character-specific costumes, brought to life the small town of Mayberry from the Andy Griffith Show. As the stage transformed into Andy's Barber Shop during the show's theme song, the whitewashed lighting created a classic black-and-white vintage effect. The effect was transportive. Lighting designer Paul Hoffman added color throughout the set as the band performed a series of staples and new covers, including a celebration of Pink Floyd with legendary fiddle player Nicky Sanders of Steep Canyon Rangers. During the band's rendition of Pink Floyd's "Have a Cigar," Hoffman drowned out the subtle tungsten effect with blasts of hot-pink light to an overwhelming crowd response.
Nashville, Tennessee featured the moody vibes of a design by Mikey Cummings for Sturgill Simpson's Fall Tour at The Ryman Auditorium for a three-night, sold out, Halloween weekend experience. Tim Robinson, lighting operator, weaved slow-pulsing, rich colors that provided a hauntingly beautiful effect while elevating the mood during high-energy moments laced with punchy tungsten effects that complement the energy of the band as they continue their "Living the Dream" tour.
Jason Isbell and the 400 Unit celebrated Halloween one day early, and incorporated Batman theme to their Voodoo Festival set in New Orleans, LA on Friday, October 30. Mikey Cummings, unable to utilize his southern-gothic, stained-glass window set design, incorporated custom fabercated "Bat Signals" on the lighting rig's five Altman Scoops. Band crew all dressed as Batman to confuse the fans and villians alike, as too whom the real super hero was.
Halloween provides the opportunity for whimsy and illusion where spectacle is expected and appreciated; these designs illustrate the potential of individual designs, the vast options, and unique experience that expert lighting design and operation can offer. Whether maintaining an existing design or adding a theme for an occasion, adaptability and quality are paramount when generating a once-in-a-life time concert experience.
Visit pulselighting.com to learn more about Pulse Lighting.