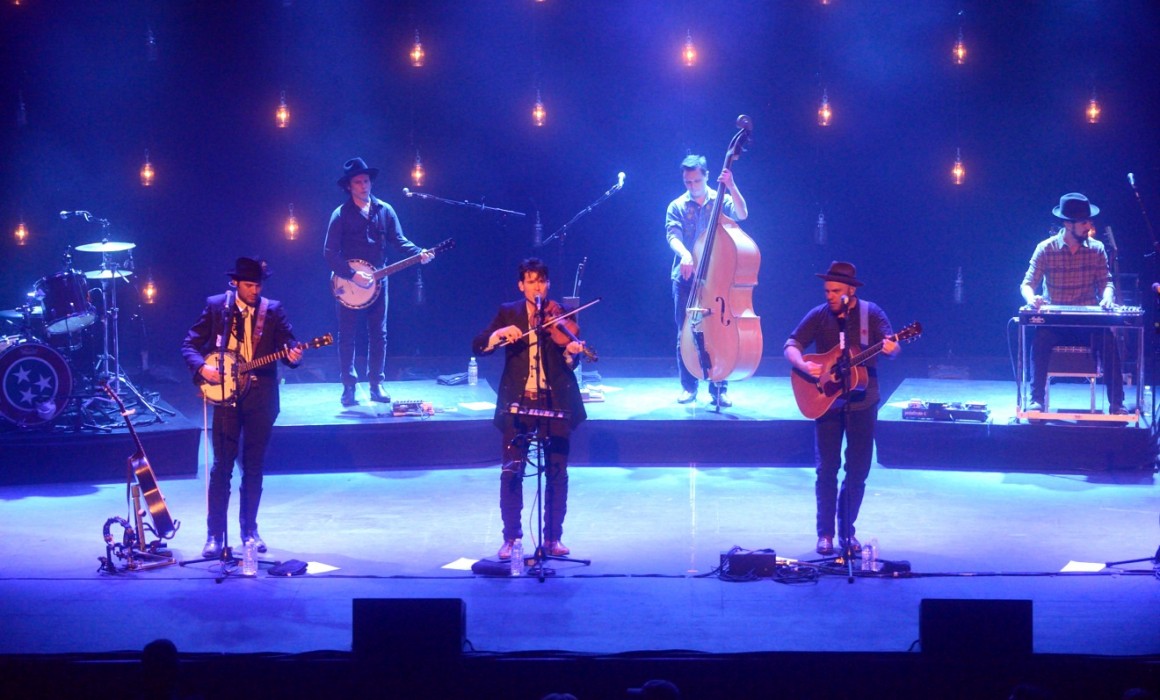 RALEIGH, NC- It's been just over a year since Pulse Lighting of Raleigh, North Carolina invested in a Sapphire Touch, Avolites' flagship lighting control console, at the request of Mikey Cummings, a 20-year veteran of the lighting industry. Upon taking delivery of the desk, Cummings immediately took it out on The Old Crow Medicine Show's 2014-2015 world tour in support of the group's Grammy Award-winning album, Remedy.
Although the console marked Pulse's first Avolites purchase, the Sapphire Touch was hardly new to Cummings who had been renting an identical desk from Knoxville-based TERI Productions since shortly after joining Pulse.
"Group One's Brad White initially put the Sapphire in my hands over at TERI two years ago," Cummings recalls. "I used the desk with three very different acts in 2013 – Colbie Caillat, The Old Crow Medicine Show, and Wolfgang Gartner and Tommy Trash's "Hounds of Hell" tour – and it performed phenomenally on each. So we chose to purchase our own and I have put it on every show I've done since."
The LD notes that the Avolites console has both minimized his setup time and improved his performances. "Compared to the previous desk I was using, the Avo has literally cut my programming time in half," he says, "and, with all of its handles, it also gives me much more flexibility running live. All of us here at Pulse tend to be more improvisational LDs, and the one thing we truly pride ourselves on is being able to lock in with our clients. With Old Crow, each of their songs has a cue or cue stack on the virtual playback screen that contains only position, beam and color information for each song. Everything else – intensity, effects and color hits – is all done live. Seeing that the band has more than 200 songs in its repertoire – and often three to four versions of each one –the set list feature comes in very handy because I can easily call up what's on the list that night and, if needed, make any changes necessary from the intuitive custom screen selections. Everything's right there for me; I don't have to search for it."
Unlike most touring acts today, The Old Crow Medicine Show features a stage setup and vibe more reminiscent of a group from a century ago. "Old Crow is seven guys playing nine different positions, but there's not a single guitar amp on stage," Cummings describes. "Although the band's sound is rooted in 'old timey' and folk music, it's more often like a riding on a psychedelic, out-of-control train through the rugged, twisting Appalachian Mountains, always arriving safely at the station! The band is extremely dynamic live and really plays off of how the crowd is reacting to each song in the show. They can go from quiet ballads to very hot fiddle tunes in a matter of seconds, as well as throwing in covers from Pete Seeger to The Grateful Dead and everyone in between depending on how they're feeling, so the set list is often deviated from on the fly."
"Songs also often get extended," he continues. "You have to be locked in with your artist, and go wherever they're going with the specific look and feel for the song they're on, as well as be able to predict where they are going, and you just can't cue things like that. The Sapphire is simply the best desk out there for this show. The large touch screens and control surface, the functions, the ease of use, the timed palettes – all of those things play into helping me deliver my best improvisational visual performance for them night after night. This desk gives me much more flexibility to do that than any other product that I've used."
Although The Old Crow Medicine Show both musically and visually nods to a bygone era, the show's production elements are unmistakably modern. Fixtures include a combination of Robe ROBIN 300 and 600 LEDWash systems; however, Old Crow's signature are the Mason jar chandeliers and curtain custom-made by TERI – three large chandeliers of four teardrops, plus individual strings of jars hung upstage as a curtain. "The mason jars are all loaded with tungsten lamps, which creates this nice warm glow, and I've pixel mapped them all on the Sapphire Touch, which has the strongest pixel mapper I've seen on a desk. It allows me to do some really cool stuff. So it's a very organic and old school show using high technology – like modern honkytonk vaudeville," he laughs.