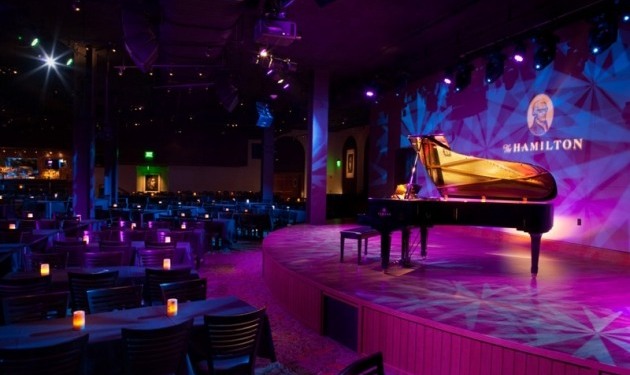 Pulse Lighting designed and installed a permanent lighting system for the performance space of The Hamilton, a live music venue in downtown Washington, D.C.
Pulse Lighting began working with The Clyde's Group two years prior to the opening of the live event space. Paul Hoffman was the project lead, who met with architects and contractors from the conception to have the appropriate infrastructure be installed for the lighting system to make it as elegant as possible.
Structural pipes were fabricated and installed mimicking the shape of the semi-circle stage, which allows for wrap around positions to hang from. Conduit was also installed to hide all of the wiring that leads back to the control booth which leaves the ceiling clean of cabling. The lighting system looks like it was made to be there and in no way is distracting or an eye sore.
The lighting system was designed to be forward thinking in that it uses "green" LED technology as well as being virtually maintenance free. With the moving LEDs there are no bulbs to change, no climbing on ladders to focus lights daily, and about 1/10 the power consumption of conventional lights. Moving head LEDs were used both as the color wash lights as well as the feature lights (non-color lights used to light people) traditionally accomplished with power hungry conventional lights. Another advantage of using LED technology is that they do not produce the heat of conventional lights which again saves power by reducing the need to counteract this heat with air conditioning. When one adds up all of the power savings that this technology offers, it actually has a big impact considering that they are used every day for long periods of time.
The other major element of this lighting system are the spot lights. The decision to use Clay Paky Alpha spot 300s was based on the fact they these lights are small but amazingly powerful. Again, there is power savings involved in that they are as powerful as a 700 W light but only the power consumption of a 300 W light. This gives them the punch they need in a small, unobtrusive fixture. Clay Paky make some of the nicest fixtures out there and The Hamilton is deserving of the best!